Atelier/Workshop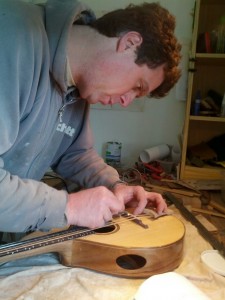 L'atelier se trouve à Valence en Brie, petit village dans la campagne Seine et Marnaise, à proximité de Samois sur Seine et Fontainebleau. J'y bénéficie d'un environnement calme dans lequel je peux me consacrer pleinement à la fabrication d'instruments de musique.
Les guitares ont généralement une table en épicéa, un manche en noyer ou en érable ondé, et une touche en ébène. Le fond et les éclisses sont en palissandre, érable, noyer, cyprès,  ovangkol, bubinga, multiplis ou massif. Tout autre essence de bois est possible, à la demande du client.
Les finitions sont faites de manière traditionnelle au tampon, ou au vernis cellulosique.
Il est également possible d'intégrer des éléments de marquèterie, des rosaces personnalisées, des manches en trois ou cinq parties, ou tout autre personnalisation, dans la mesure du réalisable.
——————————————————————————————————————————————————————————————————————————————————
The workshop is located in Valence en Brie, a small village in the countryside, near Samois sur Seine and Fontainebleau. It's a quiet place where I found the perfect conditions for making musical instruments.
The guitars are made with a spruce top, a walnut or a curly maple neck, and an ebony fingerboard. Back and sides are made of rosewood, maple, walnut, cypress, ovangkol, bubinga, laminated or solid wood. Other woods are available on request.
The finish is traditional french polish, or nitrocellulose.
Marquetry work, custom rosettes, three or five parts necks, or any other customization of the guitar are also available on request.